DUURZAME KOPTELEFOON: EEN OPLOSSING VOOR ONZE WEGWERP CULTUUR
It is an all-too-familiar problem in the modern world: a device breaks down due to a minor fault, is unrepairable or expensive to repair and eventually ends up in the landfill. Whether it is a smartphone with a broken screen, a laptop with a non-rechargeable battery or headphones with a broken cable - the result is the same. The device is thrown away and a replacement is bought. This disposable culture has led to a huge amount of electronic waste, better known as E-waste.
Every year, more than 50 billion kilos of electronic waste ends up in landfills. And this figure is rising rapidly, as we buy more and more devices that we only use for a few years and then replace for a newer model. Predictions suggest that we will throw away 120 billion kilos of electronic devices every year by 2050. This huge mountain of waste is not only a serious environmental burden, but also a waste of valuable materials. In fact, many of these devices contain usable components and precious raw materials such as gold and silver. 
HEADPHONES DESIGNED FOR ONE-WAY LANDFILL
Many of us have headphones that have only one defective part where down it breaks - perhaps the cable is broken or one of the speakers no longer functions. Despite the rest of the headphones still being usable, the device is often replaced because the design does not allow individual parts to be replaced or repaired. These designs, aimed at making devices as small and compact as possible, prevent reuse and repair, despite increasing pressure from consumers and governments to increase such possibilities. The Right to Repair movement is a good example of this. 
When it comes to handling E-waste, the options are limited and often harmful to the environment. E-waste is often dumped, buried or 'thermally recycled' - a fancy term for incineration.
Sometimes, E-waste is even shipped illegally to Africa or Asia. Although exporting e-waste to developing countries is banned because the toxic chemicals in the devices cause pollution and health damage there, working devices are still shipped. Often, these devices arrive as useless waste, harming people and nature. Disposing of electronic devices not only damages the environment, but also the economy. Every year, €52 billion in value disappears into landfills and incinerators. That's three times the annual value of all processed silver! It is Time to change this, for the earth and for people.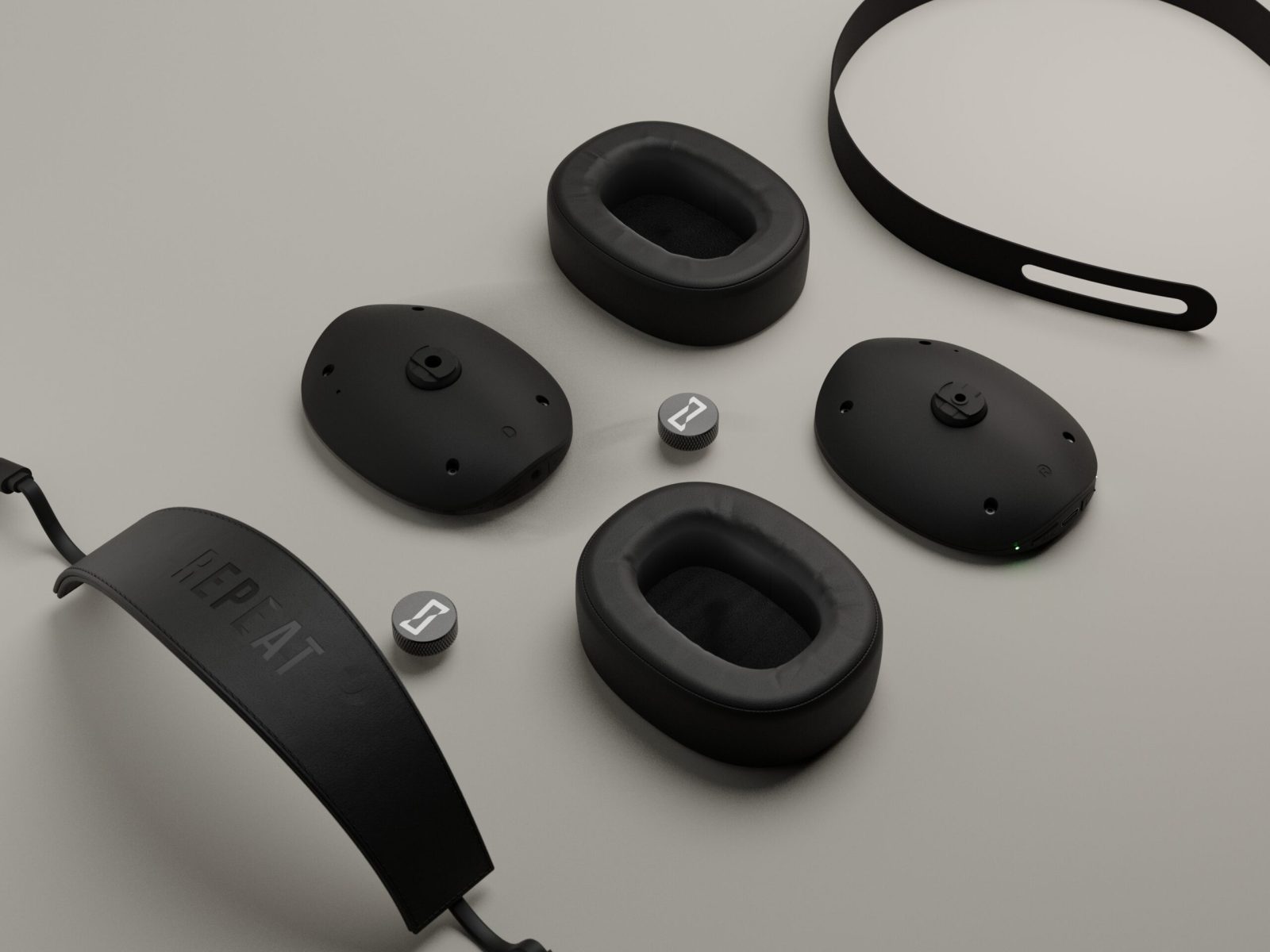 At Repeat, we decided to break this trend. We have designed durable headphones with excellent sound quality, wonderful comfort and an unbeatable service: Free Repairs Forever. Which means you can always repair your headphones yourself! 
But how do we make our headphones durable, you might ask? Our headphones are designed so that when individual parts break, they can be replaced independently. So we have transformed normal headphones into modular headphones! This means you don't have to buy completely new headphones every time something breaks.
So we have created a sustainable design that is not only good for consumers' wallets , but also for our planet. 
SMART DESIGN IS THE SOLUTION
We believe it should be possible to design devices that are long-lasting, easy to repair and less harmful to the environment. And all this without compromising on the quality of our modular headphones. As our customers can attest:  
We hope our sustainable headphones are a step in the right direction, reducing some of the problems of disposable culture. And best of all? Our parts are designed to be easily shipped and replaced through the post, making the process of repair and replacement even easier. 
Step up to sustainability and choose Repeat's repairable headphones.